When:
Show takes place on Saturday, October 14th, 2017
Friday (October 13th) – participants & vendors may arrive to set up 3-8
Where:
LeeHi Travel Plaza in Lexington, VA
Lodging:
Best Western Plus Inn at Hunt Ridge 540.464.1500 $130 per night

REFERENCE LCM TRUCK SHOW
Registration Pricing:
Trucks participating in parade – $35
Other important info:
THIS a NON-Judged no trophy event
Goody bags for the first 150 trucks registered
Truck parade (bob tails only) will be through the town of Lexington. Line up/staging of trucks 9:30 staging Parade at 10 am. Directions to elementary school where it starts given at registration.

RV's are welcome

DJ, food, door prizes.
Face painting, temp tattoos, and many kids games such as bean bag toss, water pong, fishing game, obstacle course, balloons and darts and more. Kids prizes, truck tattoos and truck lollipops.
Wild One Jr Obstacle course seen below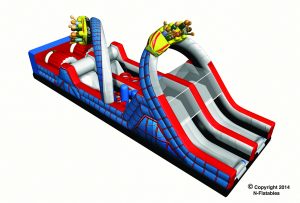 Midway of Vendors including A Mobil 1 Show Car and Pod Simulator
TRUCKWASH/POLISH INFO: The closest truck wash which is a Blue Beacon is at Whites Travel Center at I-81/I-64, Exit 205 which is 10 miles north of Lee Hi Travel Plaza. Let us know (call/email/facebook message) if you are looking for truck polishing and we will put you in contact with the guys handling this this year.
Vendors/Sponsors/Donations
Without you, the vendors/sponsors and those that donate, we are unable to provide this day to GIVE back to these drivers…our family. Anything you are able to do or provide, is very much appreciated. That being said, if you wish to set up as a vendor please contact us. If you wish to make any type of donation for goody bags and/or door prizes at this point, your will be listed as a donating friend on facebook, our website and announced throughout day at the show. (If you donated earlier on, your name is listed on all the promotional/ marketing pieces circulating also (ie: flyers, signage and tshirts at the show.)
You can email Michele@largecarmag.com or call for more info- 717 806 8907
Sponsored by:
Lee Hi Travel Plaza
Roadsknz
LargeCar Polishing
Gary Patterson Trucking
Dynaflex Products
Ridin' High Inc.
Jones Performance
Mikes Custom Truck Accessories
A BIG thank you to our donating friends!
Mervs Painting
Shift Products
Spencers Chrome Parts & Service
Wilkins Oklahoma Truck Supply
ATHS
Movin Out
Electrowarmth
Trux
Green Mountain Monogram
18 to life
4 states Truck Parts
Berubes Truck Accessories
Rockwood Products
Goods Insurance
Hogebuilt
Alumitank
JS Etling
Mini Chrome Shop
Dieters
9W Truck Parts King of Chrome
WTI
Truck Buyers Guide
AMCAN
Backwoods Hillbilly Chrome Shop
Jesse Designs
Legal shield
Pete store
Big Strappers Apparel
CB man
Twisted Shifterz
Denver Truck Painting
Grand General
Lifetime Lugnuts
Pittsburgh Power
Richfield Truck Parts
PDI
HCR Chrome Shop
Real Wheels Corporation
I77 CB & Chrome Truck Accessories
Shell Rotella
IMT Transport Inc.
Steckler Brothers
Talladega Fiberglass
Lincoln Chrome
Roadworks
Big Rig Chrome Shop
B & J Design
Jones Performance Products
Killerwaxx WV
Exxon Mobil