About The LargeCarMag Print Magazine: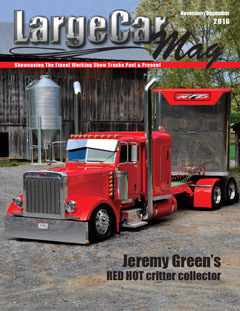 Current subscribers will receive  January/February 17 as your first issue if you sign up on
October 22 22nd or after.  (currently November/December 16 cover shown above).
You will receive six issues per year.
Domestic Subscription : – $50.00
Canadian Subscription: – $60.00
All Other Countries Subscription: – $65.00
Monies should be US DOLLARS only
You are currently signing up for the January/February 2017. This mailing will not happen until  January 2017. The November/December 2016 issue will be available for purchase in any of the below distributor locations in  November and also in our online store. Thank you. Signup for the PRINT version of LargeCarMag.com here
---
Back issues: those that we have remaining are available in our online store (first come, first serve as inventory allows).
You can purchase the LargeCarMag Print magazine at the following locations:
Diversified Tire Wasilla, AK
Truckomat of North Little Rock Little Rock, AR
California Custom Truck Ontario, CA
A & L Truck Supply Fresno, CA
A & L Truck Supply Tulare, CA
A & L Truck Supply Bakersfield, CA
Autobooks-Aerobooks Burbank, CA
Miro Dragich Norwalk, CA
Little Sister's Truck Wash  Barstow, CA
SCT Chrome Truck Parts & Accessories Corning, CA
75 Chrome Shop Wildwood, FL
Great American Chrome Shop Lake Park, GA
Iowa 80 Store Walcott, IA
Iowa 80 Fuel Center Walcott, IA
Iowa 80 Truck Museum Walcott, IA
Lahr Repair Manchester, IA
Cow Pie Trailer-Truck Wash Hillsdale, IL
Truckomat of Effingham Effingham, IL
I65 Truck & Accessory Sales Remington, IN
Nationwide Chrome & Customs   Fremont, IN
Southland Truck Center Church Point, LA
New England Truck Design Sterling, MA
Newsbreak New Bedford, MA
Newsbreak Swansea, MA
Dysarts Truckstop Hermon, ME
Ridin High Inc Grand Rapids, MI
Tradition Truck Service Gaylord, MI
Rothsay Truck Stop Rothsay, MN
Four State Trucks Joplin, MO
Joplin Petro Joplin, MO
Oak Grove 70 Truckstop Oak Grove, MO
Day Dreamers Chrome Shack Poplarville, MS
I-77 CB & Chrome Shop Harmony, NC
Kenly 95 Truckstop Kenly, NC
Kenly 95 Fuel Desk Kenly, NC
Sadler Travel Plaza Dunn, NC
Berubes Truck Accessories Bow, NH
Canaan Truckstop Canaan, NY
9W Truck Parts The King of Chrome Maybrook, NY
Elizabeth Truck Center Elizabeth, NJ
Truckomat Hebron, OH
Capital City Chrome Pataskala, OH
Wilkins Oklahoma Truck Supply Tonkawa, OK
Schott Parts & Accessories Salem, OR
Class 8 Parts, Inc. New Holland, PA
Mini Chrome Shop Waynesboro, PA
Martins Trailside Express East Earl, PA
Spencers Chrome, Part and Service Watsontown, PA
Antrim Diesel Service Greencastle, PA
Diesel Injection of Pittsburgh Saxonburg, PA
John Waynes Truck Wash & Chrome Greencastle,PA
Mid Eastern Truck Wash & Chrome Stop Manning, SC
Mid Eastern Chrome Stop Columbia, SC
Tascosa Truck Sales Amarillo, TX
Sadler Travel Plaza Emporia, VA
Doswell Truckstop Doswell, VA
LeeHi Travel Plaza Lexington, VA
Whites Travel Center Raphine, VA
V & M Trucking Harrisonburg, VA
I-5 Chrome Rochester, WA
Equipment Unlimited Sumner, WA
Homer's Towing Milwaukee, WI
Barry's Body Shop Rosholt, WI
River States Truck and Trailer La Crosse, WI
Backwoods Hillbilly Chrome Shop Seneca Rock, WV
House of Chrome Headingley, MB, Canada
Never Enough Chrome Belleville, Ontario Canada
Cool Trucks 18 Higashihiroshima-city, Hiroshima Japan
Signup for the PRINT version of LargeCarMag.com here